A Different Way of Doing Business
From the very beginning, what's differentiated Header from the competition are the individuals we're proud to call our own. The people of Header are different in how we work with each other, partner with our customers, and continually push ourselves to learn, grow, and evolve.
These core values — 27 of them to be exact — are the bedrock of our unique culture, so much so that we have a name for it: The Header Way.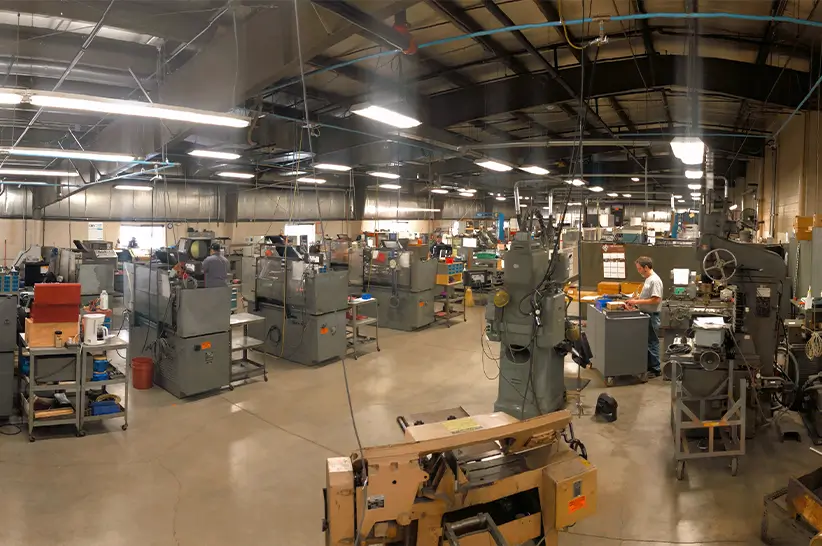 [ 1 ]
ACT WITH INTEGRITY
Demonstrate an unwavering commitment to doing the right thing in every action you take and in every decision you make, even when nobody is looking. Always tell the truth. If you make a mistake, own up to it, apologize, and make it right.
[ 2 ]
MAKE QUALITY PERSONAL
Take pride in the quality of everything you touch and everything you do. Always ask yourself: Is this my best work? Everything you touch has your signature — always sign in bold ink.
[ 3 ]
THINK SAFE, WORK SAFE
Know and practice the safety procedures for your job. Be vigilant for the safety of your teammates as well, for you are your brother's keeper. Never take shortcuts that compromise your safety or that of your teammates.
[ 4 ]
GET STUFF DONE
Take personal responsibility for making things happen — somehow, someway. Respond to every situation by looking for how we can succeed. Be resourceful and show initiative. Don't make excuses. Take the extra step to solve the problem. We get paid to complete things, not simply to work on them.
[ 5 ]
DO WHAT'S BEST FOR THE CUSTOMER
In any or all situations, do what's best for the customer — both internal and external customers. There's no greater way to build a reputation than to earn the trust of those we serve, and there's no greater way to build trust than to do what's right for others.
[ 6 ]
PAY ATTENTION TO THE DETAILS
The details matter. From the setup of a machine to the work instructions on a job, or from nailing the tolerances to completing paperwork in the right way. Be a fanatic about accuracy and precision. Double-check your work. Get the details right.
[ 7 ]
WORK SMARTER' NOT HARDER
Be organized and plan your work, including having all the tools necessary before getting started. Consider your downstream customers and set them up for success. Be proactive and think through potential obstacles or pitfalls. It's always easier to prevent a problem than to fix one.
[ 8 ]
HONOR COMMITMENTS
Be reliable and deliver on your commitments. This includes being on time (or early) for work, meetings, or breaks. Do what you say you're going to do when you say you're going to do it. If a commitment can't be fulfilled, notify others and agree on a new commitment to honor.
[ 9 ]
CHECK THE EGO AT THE DOOR
Think team first. Consider how your actions impact your teammates, including the customer. Don't let your ego get in the way of doing what's best for the team. There's no such thing as one person or department succeeding and another falling short. We win and lose as a team.
[ 10 ]
DO IT RIGHT THE FIRST TIME
The goal is to get things right; not simply to get them done. While we always want to work with a sense of urgency, sometimes we need to slow down in order to speed up. Measure twice, cut once. Stop and ask if you're not sure.
[ 11 ]
GET CLEAR ON EXPECTATIONS
Establish expectations upfront to avoid misunderstandings. Identify and explain objectives and deadlines for all projects, issues, and commitments.
[ 12 ]
GO THE EXTRA MILE
Be willing to do whatever it takes to accomplish the job, and then add a little more. Go beyond the minimum requirements and make it the best you can. Even if it takes doing something that wouldn't normally be part of your job, it's the extra mile that separates the average person from the superstar. Be a superstar.
[ 13 ]
CONTINUOUSLY IMPROVE YOURSELF AND OUR COMPANY
Keep getting better by devoting yourself to learning, growth, and continuous development. Constantly reevaluate every aspect of your job to find ways to do things better. Don't settle or be satisfied with the status quo. Ask questions and challenge norms. Push the limits of what you think you can do or be.
[ 14 ]
PRACTICE BLAMELESS PROBLEM-SOLVING
Apply your creativity, spirit, and enthusiasm to developing solutions rather than pointing fingers or dwelling on problems. Identify lessons learned and use those lessons to improve our processes. Learn from every experience.
[ 15 ]
LISTEN GENEROUSLY
Listening is more than simply not speaking. Give people your undivided attention. Be present and engaged. Let go of the need to agree or disagree.
[ 16 ]
SPEAK STRAIGHT
Speak honestly in a way that moves the conversation forward. Make clear and direct requests. Say what you mean and be willing to ask questions, share ideas, or raise issues when it's necessary for team success. Address issues directly with those who are involved or impacted.
[ 17 ]
TAKE PRIDE IN OUR APPEARANCE
Keeping your individual work area and our shop at large clean and orderly shows people we care about our work. It inspires confidence in our quality. Take pride in being a Header team member.
[ 18 ]
SHARE INFORMATION
Communicate. Communicate. Communicate. Learn to ask yourself: Who else needs to know this? The more people know, the better we can collaborate and the better we can serve our downstream customers. Information is one of our greatest assets. Find it, share it, and use it.
[ 19 ]

TAKE INTELLIGENT RISKS
Don't be afraid to make mistakes. Innovation doesn't come from playing it safe. It comes from a thoughtful and intentional willingness to try the unconventional and to test the limits.
[ 20 ]

EMBRACE CHANGE
What got us here is not the same as what will get us to the next level. Be inspired by the opportunities that change brings as opposed to stubbornly hanging onto old ways of doing things. Be flexible and open to new approaches.
[ 21 ]

CELEBRATE SUCCESS
Celebrating people doing the right thing is more effective than catching them doing the wrong thing. Regularly give, receive, and ask for meaningful acknowledgment and appreciation.
[ 22 ]

LEAD BY EXAMPLE
Take the responsibility to coach, guide, teach, and mentor others. The best way to influence others is through our own example. Don't wait for others to change. Be the change you want to see.
[ 23 ]

BRING IT EVERY DAY
Everyone is needed and everyone's important. Be here and be fully engaged. Make the most of each day by approaching every task with energy, focus, purpose, and enthusiasm.
[ 24 ]

WALK IN YOUR CUSTOMER'S SHOES
Think from their perspective. Understand their challenges and frustrations, and find ways to make their lives easier. Seek to create win/win solutions.
[ 25 ]

CONTRIBUTE TO GAINSHARING
We're in business to deliver value for our customers while also making money. No matter your role, we all play a part in building sales that exceed our expenses. Look for ways to bring in new customers, reduce waste, operate more efficiently, and control our expenses.
[ 26 ]

ASSUME POSITIVE INTENT
Work from the assumption that people are good and that the intent behind their actions is positive. Set aside your own judgments and preconceived notions. Give people the benefit of the doubt.
[ 27 ]

KEEP THINGS FUN
Remember that the world has bigger problems than the daily challenges that make up our work. Keep perspective. Don't take yourself too seriously. Enjoying what you do is contagious. Laugh every day.
CONTACT HEADER DIE AND TOOL
See what we can do for you today!